BERNARDSTON UNITARIAN CHURCH

---
---
Bernardston Unitarian Church
Spring Newsletter

in the First Parish 1739 Meetinghouse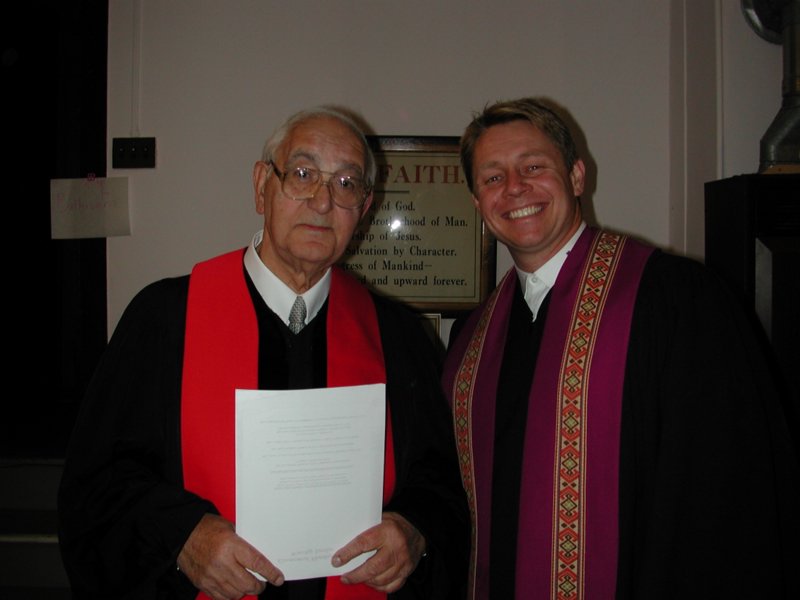 Welcoming people of all faiths and children!
Served by ministers Albert Ciarcia and Steve Wilson
and music coordinator, Beverly Phelps
Regular Sunday Services & Fellowship: each Sunday coffee hour at 11:00, service at 11:30, Children's activities during the service.
1st & 3rd Sundays: Steve Wilson, Minister
2nd Sundays: Rev. Albert Ciarcia
4th Sundays: Arts and Activism; special speakers & activities
New: Meditate.... Susan Cummings will lead a ½ hour meditation on Great Decisions Saturday mornings from 9:15 to 9:45am
DANCE!
Every Thursday from 5:30-6:30: Middle eastern dance classes with Kismet
SPRING IS COMING AND SO ARE GREAT DECISIONS 2007!
Enrich your mind, soul, and spirit with friends at Bernardston Unitarian ~
Our Foreign Policy series begins Sat. Feb. 24 and meets Saturdays 10:00 to 12:00. Tired of not really understanding the issues? This series delves into fact and opinion with insightful dialog by "experts" on video and an informative booklet to read. Give your opinion some backing and then express it at Great Decisions! Come to one or come to all 5 discussions. Feb 24, Mar. 24, Apr. 28, May 19, June 16.
SPECIAL SPRING WARMUP PROGRAMS!
Sun. Feb. 25 – 11:30am Great Decisions Guest Speaker James Cerillo, historian, educator, an interactive discussion on "Whether the cold war really ended," and "the uses to which Russian and China are putting N. Korea and Iran."
Sun. Mar. 11 at 4:00 PM Bernardston for the Future: How you can help preserve Bernardston's Natural Vistas and Resources. Guests: Lee Youngblood, Mt. Grace Land Trust, Jay Rasku, N. Quabbin Regional Landscape Partnership. Explore new tax incentives for farm and wilderness conservation.
March 22 6-9pm - Women's Group will celebrate Spring Equinox- Persian New Year hosted by Rowshei Maghsoodi. For directions call 413-522-4563.

Sun. Mar. 25 – Family drumming workshop with Ellen Clegg. Some drums will be provided, but bring your own if you have one. Supported by the Bernardston cultural Council through a grant from the MA Cultural Council and support from the Bernardston Unitarian Church.
Sat. April 28 at 8pm - SIMBA IN CONCERT Dan DeWalt and company. Hot jazz to benefit the Guinope, Honduras Children's Project.
Sun. April 22 at 11:30am - Guest Minister, Holly Bell, "Mindfulness, being fully aware."
Sun. April 29 at 11:30am – Peter Dupuis, "Intentional Living"

Sun. May 27 – Pressed Flower Art: John Clarke, pressed flower artist will present a talk and hands on workshop, free to the public. Supported by the Bernardston Cultural Council through a grant from the MA Cultural Council and support from the Bernardston Unitarian Church.
check the web for weather & schedule updates
---