don't miss EVE!
COMEDY CABARET
at the 1739 Bernardston Unitarian Meetinghouse
Saturday, 8pm Oct. 1st
Eve Brown-Waite is "a very funny lady!"
Author of "First Comes Love, Then Comes Malaria"
Eve really connects with the audience - she's a "weird amalgam of Che Guevara, Mother Teresa and Erma Bombeck!"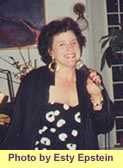 and music!
Tinky "Dakota" Weisblat
"Diva of Hawley"
sings with Lynne Walker at the piano
performing standards from the Cole Porter, Johnny Mercer, Gershwin era
This is a BENEFIT event for:
FRANKLIN COUNTY FLOOD VICTIMS & GUINOPE HONDURAS CHILDREN'S FUND
Tickets $10 at World Eye & Boswell's Book Stores - $12 at door
info at: www.bernardstonunitarian.org